The Ghanaian Organ Maker
---
In Ghana, the pipe organ has been consigned to orthodox churches, for the accompaniment of hymns and organ music. Some of the common brands used in the country are Johannus and Content. From the encouraging attendance at organ recitals held in recent years, a lot of Ghanaians seem to have developed an appreciation for the instrument.
Ashaiman-based firm, Olive Organs Ghana, drew the attention of lovers of organ music when they unveiled the first Ghanaian made organs. The company is headed by Samuel Kwofie, popularly known as Bigg Sam. His instruments are based on the Hauptwerk virtual pipe organ, a remarkable piece of software that uses recorded samples and other techniques to closely emulate the mechanics of a physical pipe organ.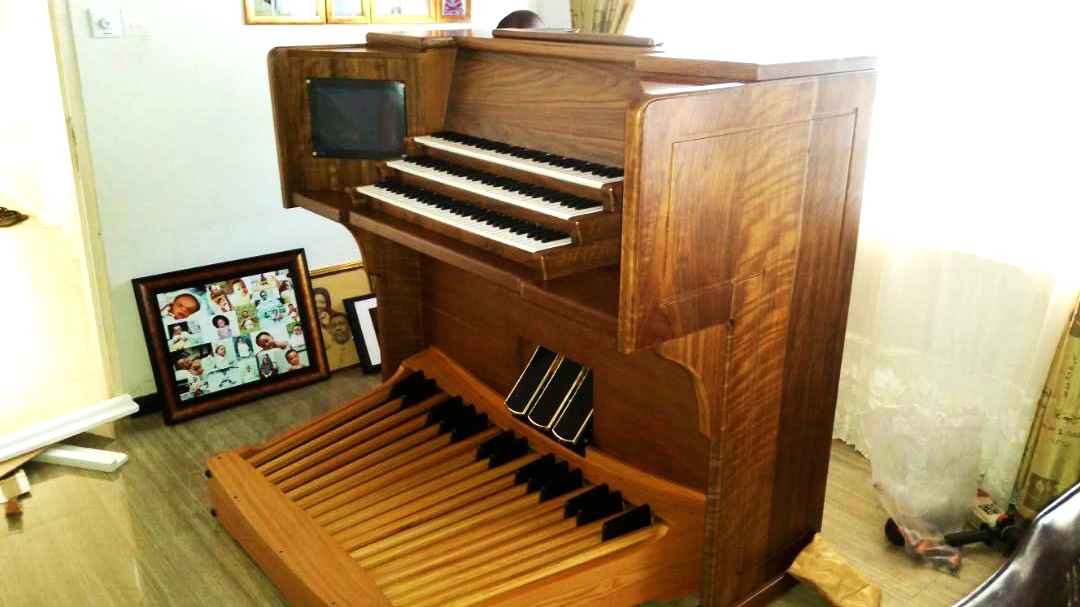 Some of the country's best musicians were present at the outdooring of their first organ. Sita Afriyie, one of Ghana's brightest female keyboardists played the tune of "Aseda nyinaa yɛ wode" by Professor Johann Yaw Sekyi Baidoo. One couldn't help but notice the smile and admiration of both the player and her audience that looked and listened on.
We interviewed Samuel to learn more about his motivation for building organs in Ghana.
---
CMG:Tell me about yourself.
Samuel: Well, I'm Samuel Ekow Kwofie. I pursued BSc Operations and Supply Chain at GIMPA and continued my postgraduate studies in Electronic Logistics and Supply Chain Management in the University of Greenwich, United Kingdom. I'm currently the MD of Olive Aluminium works and the CEO of Olive Organs. I am also the choirmaster and organist for St Paul Methodist Cathedral, Tema. As for my marital status: I am single for now but not for long.
CMG:People usually call you "Bigg Sam". How did that come about?
Samuel: Well, Prince Ahene, a good friend of mine kept calling me Bigg Sam with the double 'G'. Because of my stature, he felt one 'G' wasn't enough. And since we both went to the same senior high school, the nickie spread like a virus.
CMG: Looking at your educational background, you mentioned no education in music. Did you ever study music in school, or take the ABRSM?
Samuel: No. Mine was a gift from God. My grandpa and father played music. I was never taught to play, but thanks be to God, I understand music to some extent.
CMG:From what I've heard and witnessed, you are a skilled organist. For how long have you been playing the organ?
Samuel: I have been playing since childhood. My dad said I was playing d:m:m:- r:s:s:- at the age of 4. He doesn't understand how I was able to comprehend it.
CMG:In one of my favorite videos you uploaded on YouTube, you played some introductions to some highlifes. How do you improvise such intros?
Samuel: I used to play for a praise team called "Wesleyan Praise". And as the lead keyboardist, I was compelled to learn both foreign and local contemporary songs with introductions. Our bass guitarist wasn't punctual so I usually played the bass on the keyboard as well. I had no option than to learn songs ditto. So I simply adopted the same technique into the choral songs. No matter the song, there will always be an introduction.
CMG:What brought you to the idea of making organs?
Samuel: While I was in the UK for my masters, I was contracted by Ghanamma Presby Church to assist their choir and play for them as an organist. I came across many pipe organs like the St Margaret and Harrison & Harrison pipe organs. On my return, I didn't like the sound of my church organ at all. I tried and failed to tweak its sound to my liking. I kept reading on how sound was produced using various technologies such as Physis, Hauptwerk, Grandorgue, etc.
Grandorgue and Hauptwerk produced the pipe effect I was looking for. I was compelled to read further and travel to the United Kingdom to develop myself on pipe organs and the mechanism behind them.
I was able to put my knowledge to practical use when a friend of mine introduced me to Yves Noi Noi Hanson, a man who wanted to purchase an organ for his church. Yves found the popular brands (Johannus, Content and Viscount) too expensive. That encounter led to the first three manual organ at the Emmanuel Methodist Church. The only drawback at that time was, I hadn't developed myself in terms of sound production. That has since improved.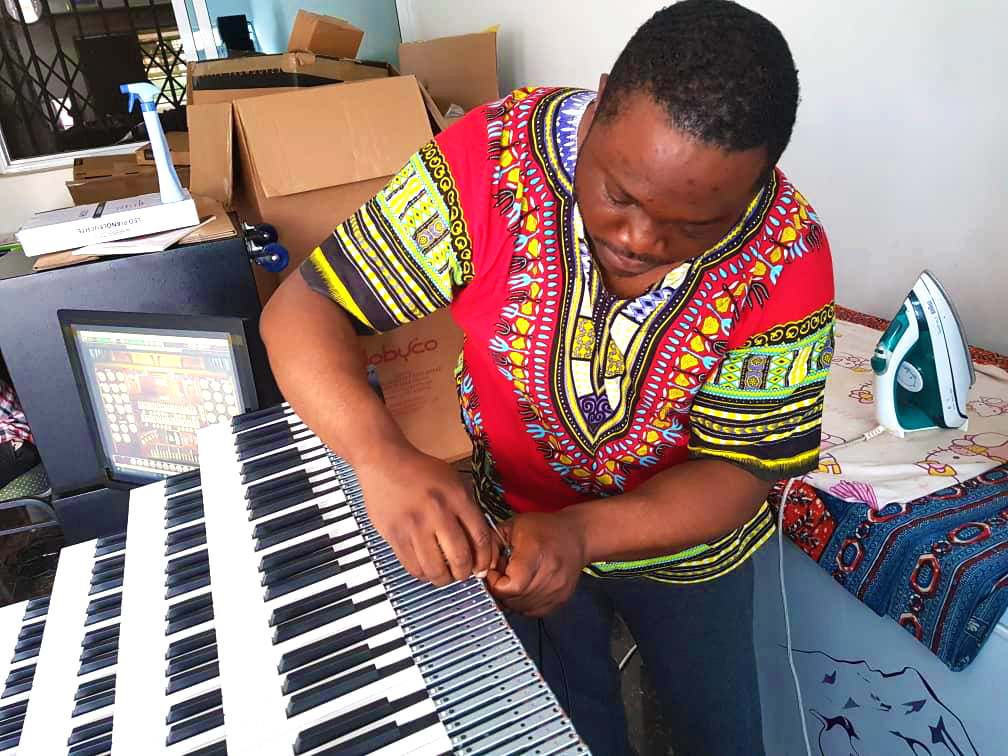 CMG: What were some of your fears when embarking on this journey?
Samuel: My biggest fear was penetrating a market where the people don't believe in their own but thank God Ghanaians are beginning to realise the truth.
CMG:In creating the first organ, what challenges did you face?
Samuel: Since the gentleman I mentioned earlier wanted involvement, I left him to do the woodwork but he failed to conform to my specifications. Yet, I managed to get the organ to work and I can attest to the fact that, in July the organ will be 2 years and has never gone through any form of servicing.
CMG: How did you sail through your challenges?
Samuel: It wasn't easy at all. The people who involved themselves in this quest tried to make it look as if I played no role when in actual sense I was the mastermind behind the production of this organ. We initially wanted to partner but the shares weren't in my favour so I couldn't just sit down for people who had no idea as to how to build an organ determine how much I should get. I decided to go solo and that's when I gave birth to Olive Organs.
CMG:Did your previous partners continue to build organs?
Samuel: No.
CMG:Who are your competitors?
Samuel: As it stands, the only competitors I have are the traditional organs we have in the system already. My resident church has Viscount, and the other church I played for had Content. But before the Viscount, St. Paul had Johannus. So I've tried all of them before but organs are more or less like cars. Even if you have the latest Jaguar or Mercedes Benz, after 3 months you would want to drive another car. So why limit yourself to a console which has a set of unchangeable combination sets?
CMG:Do you feel threatened by these competitors?
Samuel: Not at all. I do hear some negative feedback through the grapevine but my customers define quality. I leave it to them to decide.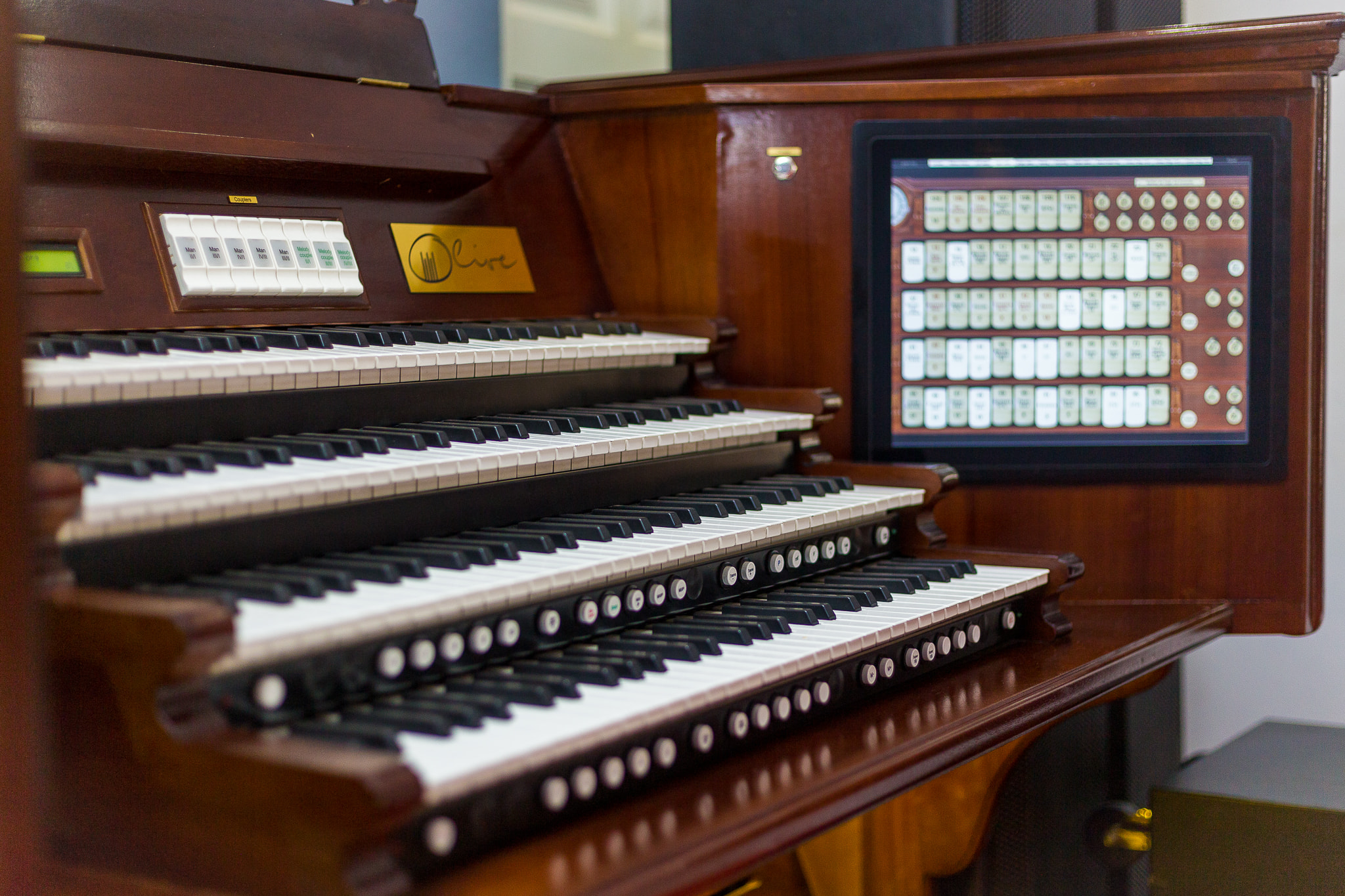 CMG:Can you brief me about Hauptwerk and how it works as the software for organs?
Samuel: It makes it possible to play organs virtually. All mechanisms that go into the pipe organ play have been captured, all tracked actions and the blower noise as well. Sometimes you get it a little off tune. When you press a key, the tracker action is heard and that's how the pipes work. When you increase or open the swell shoes, you hear the effect properly.
CMG:Olive Organs have models named Agalliao, Proskuneo, and Thriambeuo: how do you come by these names? What do they mean?
Samuel: There was a time when my organ's keys weren't functioning. I took the keyboards to two renowned organ repairers to fix it but they returned them unfixed. I went to bed angry and disappointed. When I was about to sleep, I asked God to help me. Around 5am in the morning, someone appeared in my dream and held my hand to the organ and taught me what to do. I woke up in the morning, I had not brushed my teeth nor washed my face. I went straight to the organ and did exactly what I saw in my dream. Then the organ worked. That's when someone took a picture of me because the whole house thought I was going mad.
I went on my knees to thank God. At that moment, the names started coming. Proskuneo means to bow down in worship. And the console will be used as an instrument of worship. Agalliao means to exalt God. I also use my initials "SK" in my model names, so SK Agalliao is my way of exalting my maker. Thriambeuo simply means to triumph. So whenever someone plays the SK T series, they have triumphed over the enemy.
CMG:What language are they from?
Samuel: Greek.
CMG: Do you have other brand names that are not yet on the website?
Samuel: Not at the moment. I'm waiting on the Lord to give me a name for the 5 manual organ.
CMG:Have you had any contracts from outside Ghana?
Samuel: Yeah. Nigeria. They are yet to commit. I am spreading my tentacles across the world.
CMG:Do you have plans of creating other electronic instruments like a Ghanaian made electric piano?
Samuel: It is in the pipeline. I'm actually supposed to travel to Germany for such lessons but my assistant organist has travelled so if I leave the scene, music in the church will be basaaaa.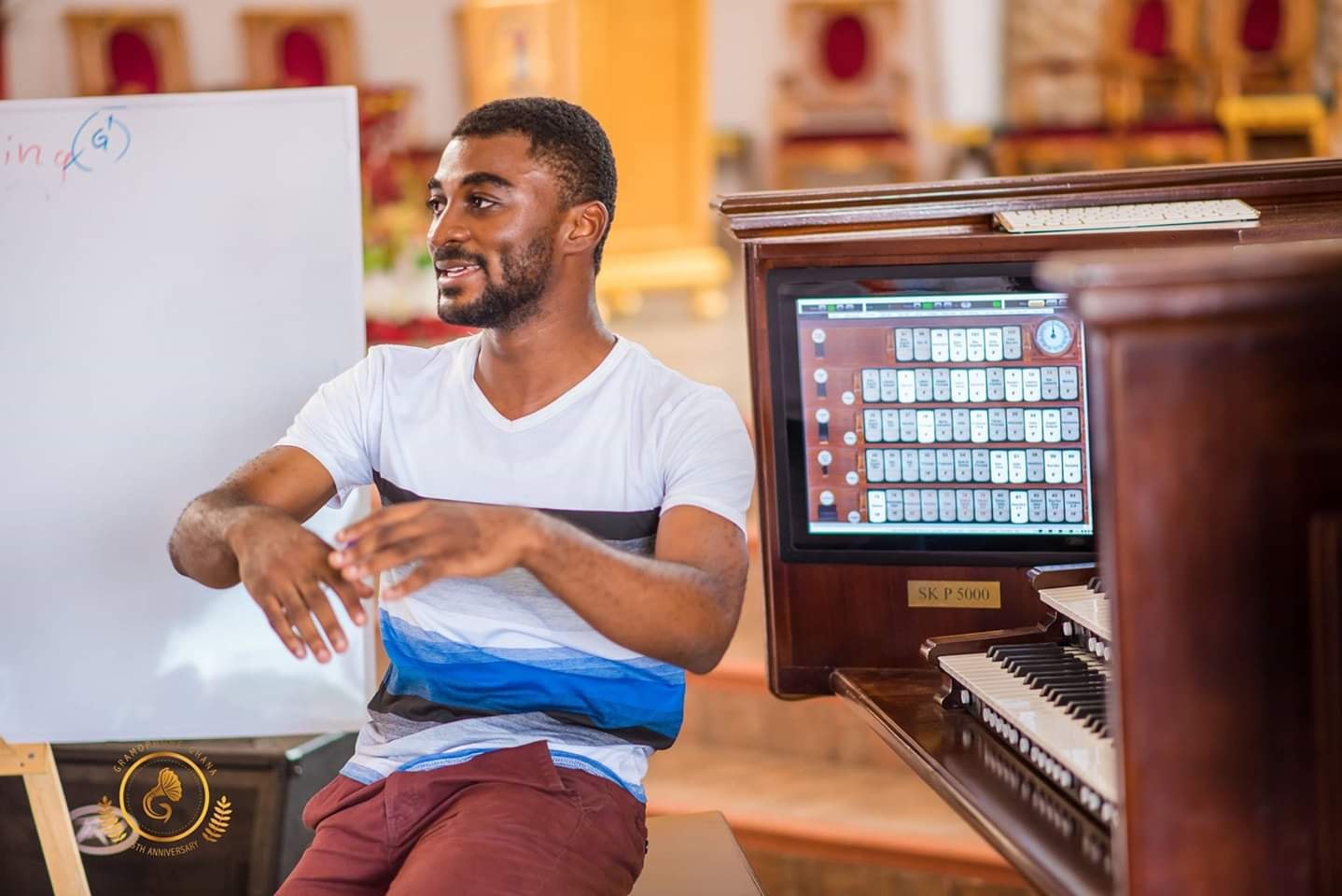 CMG:Do you have any final thoughts to share with our readers?
Samuel: Well I want the readers to know that Olive is an indigenous company and it has come to stay. No technology in this world comes close to Hauptwerk. They are original samples that produce the same sounds as the expensive brands in the UK, Netherlands, Germany and America. Technicians are readily available to service the organ should there be any problem. I can boldly say clients will not face any problems.
CMG:Thank you Bigg Sam for sparing some of your time for this interview.
---
Olive Organs is based at the Ashaiman Timber Market. They can be found online at this link.
Some of the country's prestigious organists like Augustine Sobeng, Francis Eyeson, Sita Afriyie and others have testified to how efficient Bigg Sam's organs are. The sound made after striking a key on the organ proves that it was built at a high standard. We believe Olive Hauptwerk Organs has a bright future.