The Queen and her Music
---
Today, Queen Elizabeth II, Ghana's former Head of State (from 6th March 1957 to 1st July 1960) becomes Britain's longest serving monarch!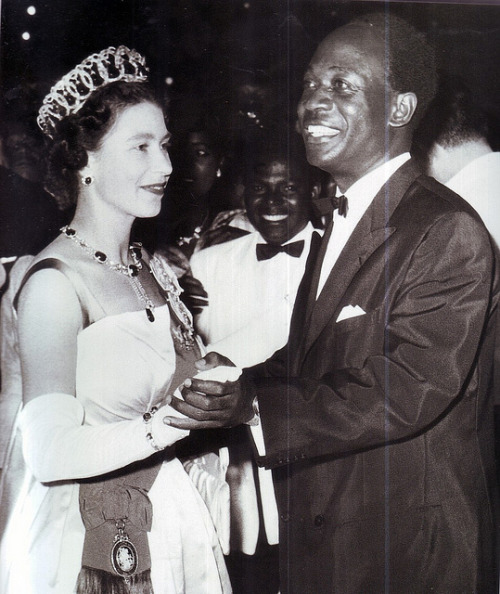 While she no longer plays an active role in the lives of many Ghanaians, Britain's contribution to the arts, especially choral and classical music in Ghana cannot be understated.
This amazing cultural export has evolved to what it has become today: an old respected tradition in music loved and shared by thousands of Ghanaians throughout the country and the world. From the Gilbert and Sullivan operas held at the Achimota Secondary School to the performances of the National Symphony Orchestra, Britain's influence and power has fostered the development of serious art music in the country.
We shouldn't forget the monarchy's greater role in promoting our musical arts - most potently still felt today with the popularity of Handel's music in Ghana. Handel wouldn't have been as known and celebrated by the world were it not for the British monarch's patronage and support for his brilliant work. Think for a moment about his Water Music to get the picture.
His definitely more brilliant contemporary, JS Bach, could have benefited immensely from such exposure and heavy weight backing: but his music, although as enduring as Handel's doesn't seem to reach as wide and diverse an audience.
With this in mind, it makes sense that art patronage (today seen in the likes of Ms. Joyce Aryee and company) should be encouraged and celebrated as a way to move art music forward. Relying only on popularity and market forces goes a long way to limit the daring of our composers to think beyond the usual and reach for heights we the humble public have never fully imagined, never fully grasped.
There's more music inspired by British monarchs that we will be posting throughout the day. But here at Choral Music Ghana, we'd love to celebrate this day by kicking off our shoes, relaxing in our seats and soaking in the rich words and music of this most famous hymn, God Save the Queen.