Elikplim Adzroe, the Musical Policeman
---
You don't always think of music when you imagine a policeman. It takes a bit of searching to find and appreciate the artistic nuance within one of the more mundane social institutions in the country. We found an amazing talent within Ghana's Police Service, and there is the chance that more musical geniuses are on the rise within its ranks.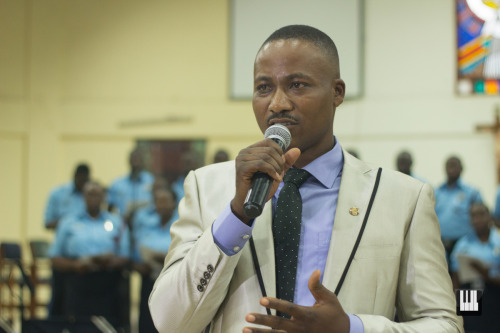 I first met Elikplim at the premier of Alfred Patrick Addaquay's Laudatuer Christus.

Elikplim was with the Ghana Police band to perform the curtain raiser for the evening's main event, as well as showcase a teaser performance of hymns with the St John's Methodist Junior Choir in anticipation for the Night of Hymns that was to take place later that year.
For a change, someone walked up to me to talk about Choral Music Ghana. This humble musical policeman had discovered our little organisation and was since following its activities online. It struck me as odd but pleasing that so random a person as he seemed then will have such keen interest in Choral Music Ghana.
After a brief exchange of pleasantries and whatnot, I hinted at possible future projects that might include the Ghana Police Central Band and Choral Music Ghana.
Our interaction was cordial but brief, and although I was excited to meet a fan of our work, nothing of note happened between us until I saw a poster for a concert at the National Police Training School. It seemed to suggest that this random friend had more music in him than I'd imagined.
That was how I discovered Elikplim Adzroe, the composer.
Eli grew up around music. He was born into a family of musicians and has been involved in it since he was 5, continuing in his basic and secondary school days. He joined the Ghana Police Service at 18 as a bandsman. He was awarded a BA in Music from the University of Winneba, graduating with First Class Honors.
On 22nd November 2015, Eli made small history in Accra as the first policeman to put together a concert of his own music. It was held at the St. George Catholic Church, with an audience likely consisting of friends, family, the few of us in the know and the usual aficionados we've met at other outings.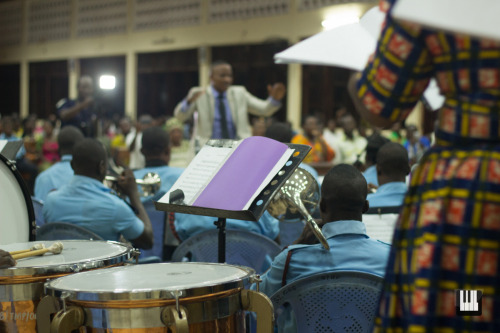 The opening speech gave us a brief overview of music within the Ghana police force and the influence of Elikplim on young composers. I learned there was a shift in tune and rhythm within the ranks as - thanks to the growing popularity of choral music - the police was drifting towards the form, away from its expected martial music. This meant more public performances by the law enforcement body in the future. Of course, we were excited.
Young officers, I learned, were also exploring music as a creative outlet. With Eli's stellar bio and experience as a student and musician within the force, it's little wonder that a new generation of policemen will be inspired to follow his footsteps.
As far as concerts go, the event proper was as familiar as the music performed by a number of guest choirs. Perhaps too familiar. It was in three parts, the first two not so distinct from the others.
I complain that the music itself was too familiar because for the first two parts I saw little to distinguish Eli's work from what you're likely to hear from any established Ghanaian composer active today.
There is a good side to this I will not fail to notice: for a composer relatively new to the scene, Elikplim's work is as mature as the goodness we've become used to. Anyone who has attempted to write music will appreciate his mastery of the contemporary sound. I saw Newlove Annan shake off the usual some years ago when he went both pop Gospel and "experimental" in his work premiered with Pax Choir KNUST. I haven't paid much attention to Varrick Armaah's own recent music but if anything, in their light Elikplim seemed ever so slightly dated.
Besides his command of different moods well expressed in local language songs, there was little new I could say about what I heard because, in a sense, it's been done before. There was, however, something I unconsciously demanded from my friend that evening. I found no words for it, but the lack was telling, and I sat through two parts listening, waiting.
He delivered in part 3.
The Police Choir and the Central Band took the stage, with the composer himself conducting the ensemble. Where before we heard four-part harmony accompanied by a synthesizer, this time there were drums, Western and African, there were cymbals. There were trumpets. The band had come to perform!
Here's the reason for my excitement and here is the thing I demanded from Elikplim. More Orchestration. That he use the instruments available to him in his unique position to write music for the band, not merely adapt music meant for four voices, but to write music with all the sections of the band in mind.
Ghanaian choral music will forever remain stagnant if composers limit themselves to four voices and an accompanying synthesizer that plays a piano one moment, then emulates a string section the next. Sadly, those that use African percussion instruments are likely to restrict those musicians to filling in the music with an improvised rhythmic background that can be as uninspiring and repetitive as the melody in Ravel's Bolero.
One soloist I've come to respect, Patrick Agbodza-Gbekle, a trumpeter who performs with various choirs does well to expand the sound of our choirs by adding a little brass flair. Though I wish the choirmasters will write interesting parts for him to go with their music, I find Elikplim in a much better position to show us what more can be expressed with Ghanaian choral music with his collection of woodwinds, brass and percussion.
It was in this final part that his genius, for me, began to emerge from the cobwebs of the old and familiar. There was something new Elikplim brought to the table that night.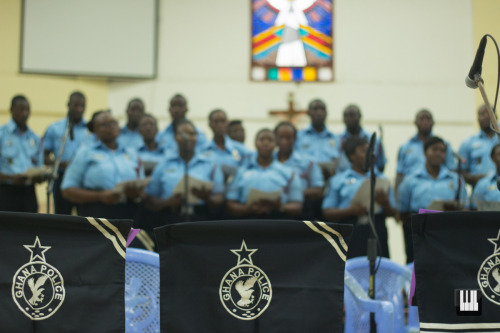 The most striking piece he performed was Woye Nyame, which began with a drum solo that ushered in the woodwinds, and then the brass before the voices joined the lively parade of sound. Frankly it's a simple idea, a procession of instruments, but it made all the difference that night, and gave me hope that this brilliant young man will stir our hearts and minds in a way few, if any Ghanaian musicians have yet done.
We'll speak to Elikplim later this year to find out more about his journey as a musician, and where he's headed.