A Year Old
---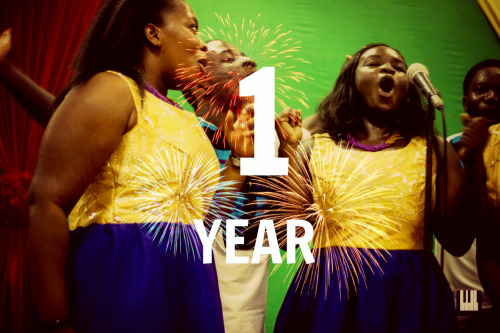 This calls for a bit of celebration: this month, Choral Music Ghana is a year old!
We'd like to thank you for being with us on our journey exploring the choral music scene in Ghana and bringing the best in whatever small way we can to you. We'll take a look at some of the highlights of our first year, in anticipation of some of the critically acclaimed events we're expecting to entertain us this year.
2015 was exceptional in the events it had; we saw Patrick Addaquay's remake and premier of his Baroque-styled oratorio Laudater Christus. For me it heralded the emergence of Bel Canto Chorus as a major choral ensemble in Ghana, and reasserted Addaquay as one of Ghana's leading contemporary pianists, and certainly the most active and popular. I was saddened by the fact that it did not make as large as impact as it deserved. Laudater Christus is after all, the only major oratorio Ghana can boast of.
Classical Laughs, the classical music and comedy series started by Extreme Productions, a production house founded by a member of Harmonious Chorale to promote classical musicians and soloists was unique in its departure from the largely sacred repertoire of most concerts and performers. Most people forget serious art music is an independent form. Just as we saw culturally relevant works performed at the University of Ghana Music Department, it's good to realise people appreciate the breadth of experience serious art music can express. Perhaps in the near future we will see a growth in choral music of the secular form.
Harmonious Chorale's "Evening with the Masters" towed a similar line by exploring besides the sacred, several culturally relevant secular choral works of Sam Asare-Bediako. Though mostly Christian, other themes explored included morality, sanitation and a return to the social values necessary to community building. This initiative is led by their ever gracious patron Rev. Joyce Aryee to expose the composers of our favourite Ghanaian songs. With a good concert in Accra and repeat in Kumasi, Harmonious Chorale left us eager for whose work they will showcase for this year.
As is expected, several albums were released by some of our favourite choral ensembles. We will go into our favourite picks of last year in a feature article later this month. Each pick is a unique work worthy of mention.
This year, we look forward to more of these, including favourite serial events such as Gramophone Ghana's Fellowship of Songs, the second Classical Laughs and what wonders Armaah and his Harmonious Chorale will bless us with.
It was great to be a part of these events, to see choral music make such strides. It's also been a wonderful year of bringing you the best in Ghanaian choral and classical music. Here's to more awesomeness to come!
Editor-in-Chief,
Choral Music Ghana.