The Bel Canto Chorus Secret
---
Jermaine Kudiabor spoke to Theophilus Adu Bredu over the weekend for his thoughts on the journey so far with Bel Canto Chorus and Alfred Patrick Addaquay.
On 30th August history was made as the first oratorio composed by a Ghanaian was performed.
Laudateur Christus is the work of Patrick Alfred Addaquay, arguably Ghana's foremost concert pianist and classical musician and he chose his own Bel Canto Chorus to render it. And boy did they render it.
This wasn't the first time we at CMG have heard of Bel Canto Chorus and over the weekend I interacted with their assistant organist Theophilus Adu Bredu to talk about the choir that is making such huge waves in Ghana's choral music scene.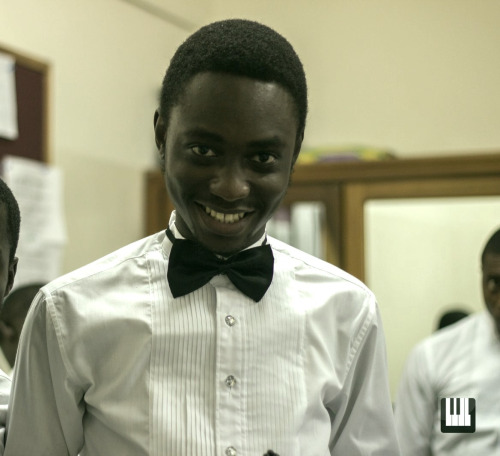 According to Theophilus, Bel Canto started as Navidad Chorus, a collection of individuals – mostly IMCS Pax Romana Choir alumni from University of Cape Coast who were based in Kumasi. The purpose of the choir was to minister solely at Christian feast days like Christmas.
On 1st September 2014 Navidad Chorus was renamed Bel Canto Chorus with Patrick Nana Sarfo as main director and Patrick Alfred Addaquay as its musical director. Right now Bel Canto has a modest number of forty with about thirty active members.
"The main purpose of the choir is to praise God with music and interpret it beyond human imagination."
Bel Canto achieves this by having all night Friday rehearsals at Kaase Catholic Church, Kumasi. "Within this period choristers are taught music… we also hold workshops on voice, dynamics and the likes." Knowing Theo as well as I do it's not difficult to imagine the pride with which he types these words. "After learning and rendering the songs we actually compare them to an international choir and critique ourselves."
When I asked how he joined Bel Canto he answered, "I am a student of P A Addaquay… my major challenge was which choir in Ghana can help me mature my love for (musical) interpretation? I told Addaquay about it and after long deliberation (he) suggested the new baby Bel Canto Chorus to me. They had only just changed the name then."
When the conversation shifted as it obviously would to Addaquay, there were more glowing words of praise. "Working with him is one of the best things you could have as a Ghanaian musician. He has wide knowledge and imaginative skill. Consciously or unconsciously you begin to see music in a different way."
That seems evident because within one year of its reformation Bel Canto has pleased with its Life of Christ concert held at several venues in Accra, Cape Coast and Kumasi. The latest favourite being of course, Laudateur Christus. The Messiah inspired oratorio was performed at the Covenant Family Community Church to great applause and Theo promises repeat performances in several other regions before the year ends. Have no doubt that CMG will be the first to let you know those dates.
If you are in Kumasi and want to be a part of this young choir's bright future, contact their director Patrick Nana Sarfo on (+233) 0242318619.