Returning to the Hymn
---
Good evening Ghana!

It's been a few exciting months since our last editorial. The year is coming to an end and with it, we are already seeing a spike in musical activities. Christmas is approaching and like any one who loves choral music in Ghana, we expect to be inundated with events to catch up on.
The traditional spirit of Christmas music celebration; songs that meditate on the nativity as well as the religious and secular responses to the celebration, bring us back to one of the most enduring forms of church choral music: the hymn.
Last month, Pax Choir in KNUST and University of Ghana held similar concerts celebrating hymns in one way or the other: I was present at Pax Choir UG's Singing with Meaning, a program that puts the music in perspective.
Jermaine attended Pax Choir KNUST's Deo Gracias and noted the "spirit of the evening":
With the serene mood and an attentive audience listening to interesting arrangements of our everyday hymns, crowned by the unveiling of the Blessed Sacrament, Deo Gratias was more than a concert, or even a ministration. It was a two hour long prayer.
At the end of this month, we're already looking forward to another celebration of hymns local and foreign. Alfred Patrick Addaquaye's Night of Hymns (to be held on the 29th of Novemver) was first announced at the premier of his oratorio Laudateur Christus at the end of August. The concert will see the Saint John's Methodist Junior Choir and the Ghana Police Central Band, Accra in performance.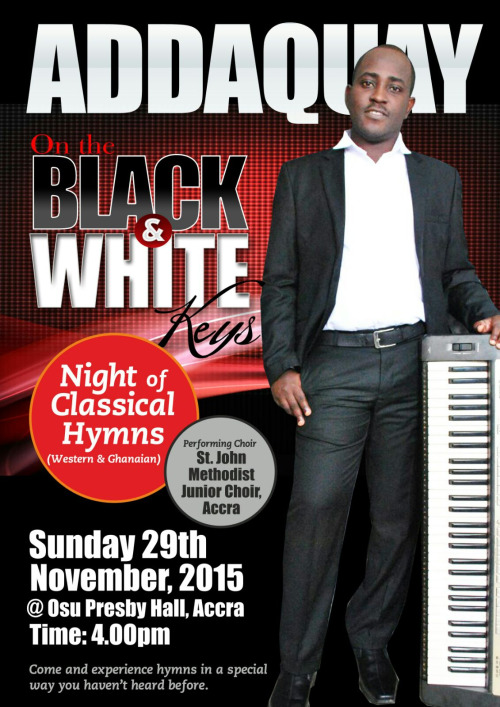 If you don't get enough of hymns on Sunday at church, Miss Joyce Aryee's Hymns and their Meanings airs on Sunny 88.7FM every Sunday from 4pm to 5:30pm. This radio program by the Salt and Light Ministries has a lot in common with Singing with Meaning.
As can be seen, hymns still are an important component in the repertoires of Ghanaian choral ensembles. Efforts by some groups to do more than "just sing beautifully" shows there is more innovation in this old space that will hopefully continue. If anything, we are certain that our two favourite Pax Choirs will continue to find more way of making the old and familiar fresh and inspiring.
This month alone will see a number of significant events we've already picked up on in Accra and Cape Coast. Kings Hall Media, a company that seeks to promote choral music as a viable entertainment genre in Ghana will have its first concert, titled Kings Hall Praise, on the 22nd of November at the Royal House Chapel, Ahenfie, at 3pm.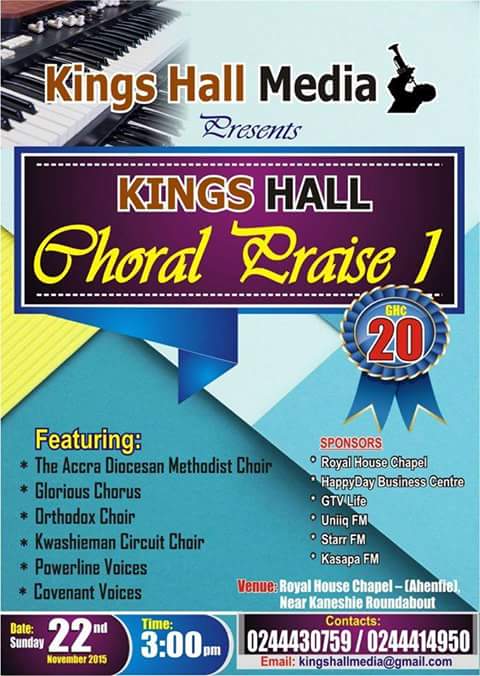 The KNUST School of Medical Sciences celebrates its 40th Anniversary with a concert by the medical students themselves at the Great Hall, KNUST.
In Cape Coast, in a few hours, the UCC Chapter of the Ghana National Association of Adventist Students, GNAAS holds its House of Praise concert at the GNAAS Auditorium. Tomorrow, Pax Choir UCC will hold an evening of folk and sacred music at the School of Medical Sciences Auditorium at 6pm.
Last but not least, on the 22nd of this month, Elipklim Adzroe from the Ghana Police Band presents an afternoon of music at St. George's Catholic Church in Accra.
We're super excited to see how much activity is going on this month alone. As the weeks lead to Christmas, we'll keep you up to date with more of what you should know in Ghana's choral and classical music space.